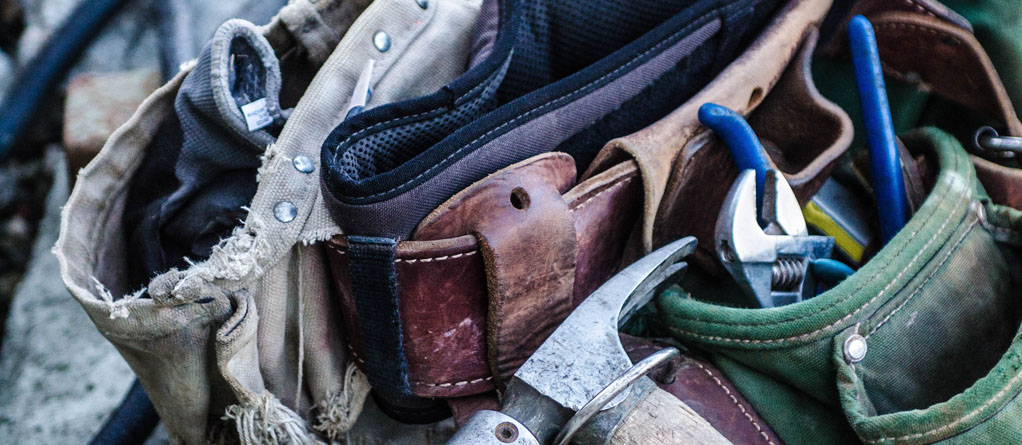 Handymen are known as repairers, fixers, they typically have a broad skillset, also known as a handyperson or handywoman, or a handyworker. These skilled and experienced individuals usually have trade skills and are often thought of as multi-trade. Lots of tradespeople are fully experienced and qualified in a range of skills due to years' worth of experience in what they do and dedicated to continuous learning and application of theirs trades. There's no rule about just sticking to one trade. Ambitious individuals might learn many trades, just like many musicians learn a range of different instruments. Handymen, handywomen or handypeople are generally thought of as working on residential properties or around the home but many also are also perfectly competent at applying their skills to commercial premises too. A good handyman's skills aren't just limited to the interior of a property either. External property maintenance, odd jobs, projects and fix-up tasks are also well within the domain of any good handyman too. 
What Does A Handyman Do?
It depends on the individual handyman's skills but generally speaking a handyman should have a broad skillset and be able to complete lots of different types of home improvement, project based and odd job type tasks. A handyman who is good at his job should have excellent craftmanship and practical skills. General property maintenance and repair skills are really useful skills for any handyman to have. Skillset should be quite broad, ranging from general plumbing skills (although not necessarily Gas Safe Registered), gardening, property maintenance, and painting and decorating skills. A good handyman should be able to carry out a wide range of residential and commercial property tasks whilst knowing when to recommend or "get in" other tradespeople to do specialist tasks, such as plasters and Gas Safe Registered plumbers. 
What Jobs Does A Handyman Do?
When you find a good handyman you'll learn that regular property maintenance, cleaning, repairs and generally building a good working relationship with them is the way to go. You can build up tasks that need doing but little and often is certainly a good method when it comes to an economical way to get tasks complete. They say prevention is better than the cure when it comes to medicine and our bodies as this also rings very true for property upkeep too. Don't let things get too bad before fixing them. For example, a leaky roof following some of the heavy rainfall we get in the UK, could soon turn into something worse and cause property damage and damage to items, if left unrepaired. Little and often is the way to go. 
A good handyman will generally do the following types of jobs: 
Regular property maintenance

 

Additional repair suggestions (consultation)

 

Painting and decorating including filling gaps and cracks although not generally plastering services

. Not necessarily though, some handymen might have worked for years as a plaster and picked up other skills along the way. It does really depend on the individual handyman

 

Gardening and landscaping

 

Odd jobs

 

Light repairs

 

Cleaning services including end of tenancy cleaning for property maintenance companies and landlords/landladies

 

Identification of issues, repairs that are necessary and assessments

 

Flat pack furniture construction

 

Some joinery joinery/carpentry tasks

 

Bathroom / Kitchen installation

 

Plumbing tasks (usually not Gas Safe formally Corgi Registered tasks unless they're qualified and up to date) including toilet repair, bath fitting, leak rep

airing and so on.

 
Does A Handyman Just Do Odd Jobs?
No. Certainly not. It depends on the skills of the handyman and generally the questions you should ask when hiring a handyman should be around their specific skills and experience in the tasks, job or project that you need doing. Check testimonials, particularly relevant testimonials for the type of job you need help with, look for reviews (check any bad ones too not just the good ones), and check for any case studies, including details of projects that they've undertaken. This will give you a good idea of if the handyman is a good fit for your project. 
What 
Kind Of Projects Does A Handyman Do?
Projects undertaken by a handyman will generally range from unskilled to highly skilled. Typical projects that a handyman will do includes: 
Painting and decorating (both interior and exterior) – including walls, woodwork, hard to reach areas such as high ceilings in hallways and above staircases

Flooring (carpet, wood, laminate, linoleum, etc)
Tile installation
Carpentry and joinery work
Wood and uPVC window installation
Door installation and adjusting
Drywall repair
Home renovations
Gardening and landscaping including decking (mowing lawns, trimming hedges, etc)
Electrical wiring and rewiring
Putting up and fixing shelves
Loft conversion
Plumbing
Putting flat-pack furniture together
Fixing drawers, dressers, cupboards and wardrobes
Hanging curtains
Hanging pictures and mirrors
Cleaning – such as cleaning the exterior of a building before applying paint (painting preparation), and end of tenancy cleaning
Consulting on a range of tasks to help homeowners and commercial premises owners/

lease

holders

 choice the best options for them

 
What Industry Is A Handyman In?
Handymen are considered to be multi-skilled so don't often fit into just a single trade. Although some handymen tend to specialise in one trade whilst covering over trades. Whereas others are real generalists who can provide an excellent all round service. If you're looking for a local handyman, then your best option may be to seek or ask for case studies and make sure the handyman is suitable for the odd jobs or project you need carrying out. In a nutshell, a handyman can be considered to be in what I known as the "General home repair industry". 
What Type of Insurance Does A Handyman Need?
At the very least any good handyman or handyman company should hold up to date Public Liability Insurance. This provides protection in the unfortunate event that someone is injured or damage is done to property as a result of the handyman's business. Handymen will generally have between around £1million to £5million in terms of this type of insurance cover. 
What Qualifications Do You Need To Be A Handyman?
There are many different types of qualifications that handymen need to have. Many are apprentice trained and so may not hold modern up to date qualifications, as experienced goes a really long way. The essentials tend to be qualifications including City & Guilds, BTECs and NVQs. Handyman courses tend to be vocational and involve having good knowledge of using tools and machinery, an excellent knowledge of property maintenance in general including building construction and being able to work well with their hands is obviously very important. Numeracy and literacy skills are also very important which are often referred to as "functional skills" and excellent problem-solving and decision-making skills (including being able to weigh up options and decide the best way forward with a task, job or project). Any handyman business needs quality control to ensure work is up to industry standards and handymen need to have really good attention for detail to check their work meets required standards. Skills that are needed in terms of running are business are also handy to have (no pun intended!) including being able to quote for jobs, having excellent customer service skills and project management skills. With larger jobs, a handyman may need to work well with others if plasterers need to be hired too, to complete jobs within their areas of expertise. 
Need To Find A Good Handyman?